Our Mission
Encountering Jesus, equipping disciples, living mercy.
Mission
The Stewardship and Development Office advances the mission and vision of the Catholic Archdiocese of Omaha and its parishes, schools and ministries by implementing high quality and spiritually impactful programs that develop the leadership and resources to meet their priorities.
Vision
The Archdiocese of Omaha will be a recognized leader for the high quality, spiritual impact and success of its stewardship and development programs and the Archdiocese and its parishes, schools and ministries will be in a strong financial position. Parish and school personnel and volunteers will be highly trained and will implement best stewardship and development practices resulting in strong communication efforts, meaningful levels of involvement and significant response to invitations for support. Catholics in the Archdiocese of Omaha will understand that their response to stewardship and development efforts is a reflection of their faith and is as meaningful as prayer and service.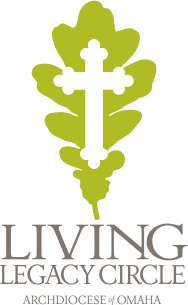 Living Legacy Circle
as a special way to recognize those who have made a provision in their estate plans for the Archdiocese of Omaha or a parish or school within the archdiocese.
Join Us
Many people are called to include the Catholic Church in their estate plans as a lasting testament to their faith. The Archdiocese of Omaha created the
Let us help
with
your
gift plans
Please contact us if you would like additional information or let us know if you have given to us in the past.