Couple's Gift Supports Catholic Education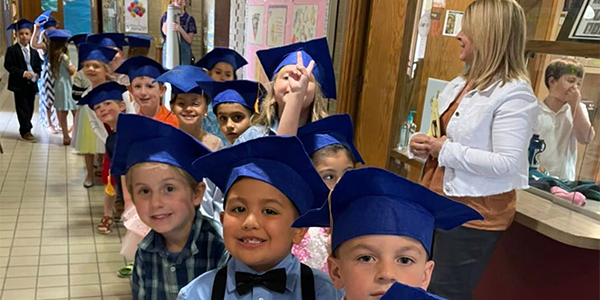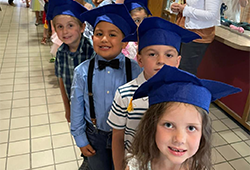 As lifelong Catholics, Duane and Carol Kanne believed in the lifechanging impact of a Catholic education. They also understood that many families struggle to afford the cost of tuition. Guided by their faith, generous spirit and a desire to help the neediest students, the Kannes partnered with the Catholic Futures Foundation of Northeast Nebraska to create a tuition assistance fund that secures their legacy and will impact students and families of the Archdiocese of Omaha for generations. The Catholic Futures Foundation is the charitable foundation of the Archdiocese of Omaha. The Foundation helps donors make planned gifts that provide perpetual support to the beneficiary of their choice.
The donor-named fund is a tribute to their friend Bishop Milone - who died in 2018 - a long-time pastor of St. Bernadette and an advocate for Catholic Education. Sadly, within months of setting up the tuition assistance fund, Duane passed away. Still, his foresight and devotion to Catholic education lives on through the couple's gift. As a way to honor Duane's memory and continue to grow the fund they started together, Carol plans on making Qualified Charitable Distributions (QCDs) before the end of each year via her IRA.
Relationship with Bishop Milone Inspires Couple
Bishop Milone served as St. Bernadette's pastor from 1973 to 1988. He was ordained a Bishop in 1981 and was assigned as an auxiliary bishop to assist the late Archbishop Daniel Sheehan, who was experiencing health issues at the time. Duane even traveled to Rome to attend his ordination. Bishop Milone was installed in 1988 as the sixth bishop of the Diocese of Great Falls - Billings, Montana. After retiring in 2007, he returned to St. Bernadette to live and serve by celebrating mass at the parish and presiding over confirmations in the Archdiocese of Omaha. "We always thought the world of Bishop Milone, and he's just been a saint to us," said Carol.
"I knew Duane and Carol as devout, dedicated members of St. Bernadette, with a great love for Bishop Milone. They were very interested in honoring Bishop Milone for his dedicated and inspiring service to the parish and in assisting families who want to attend Catholic school," recalled Father Harold Buse, former pastor of St. Bernadette.
Indeed, Catholic education has always been central to their lives. Carol attended Omaha's St. Rose Grade School and Ryan High School. A native of Dedham, Iowa, Duane went to St. Joseph Grade School and Kuemper Catholic High School in Carroll, Iowa. The couple met at St. Joseph Hospital in Omaha, where Duane was studying to become a nuclear medicine tech, and Carol worked as an x-ray tech. After they married, they built a home near St. Bernadette. For more than 44 years, the lives of the Kanne family centered around their parish community where their two children, Ann and Steven, attended school. Today, many other children have that same opportunity thanks to their gift.

Fr. Buse said the Kanne's generosity, and the impact of their fund cannot be overstated. "I have seen so many students who benefit from tuition assistance. They bloom and flower while at a Catholic school. They also become instruments through which adults in the family either come to the faith or return to the faith," he said. "Without tuition assistance funds, they would not have a chance to thrive in this environment. Tuition assistance like that provided by the Bishop Milone Fund makes a big difference in the lives of families and in the life of the church as we pass the faith to a new generation."
To learn more about how to use QCDs from your IRA how to start a donor named fund to benefit the mission of the Archdiocese of Omaha, contact:

Tony LaMar
Legacy Planning Officer
Archdiocese of Omaha
Stewardship & Development Office
402-557-5650
[email protected]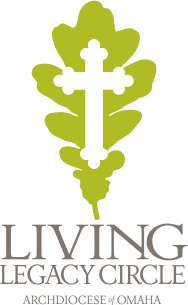 Living Legacy Circle
as a special way to recognize those who have made a provision in their estate plans for the Archdiocese of Omaha or a parish or school within the archdiocese.
Join Us
Many people are called to include the Catholic Church in their estate plans as a lasting testament to their faith. The Archdiocese of Omaha created the
Let us help
with
your
gift plans
Please contact us if you would like additional information or let us know if you have given to us in the past.