Despite Distance, Couple Still Devoted to Omaha's Holy Name School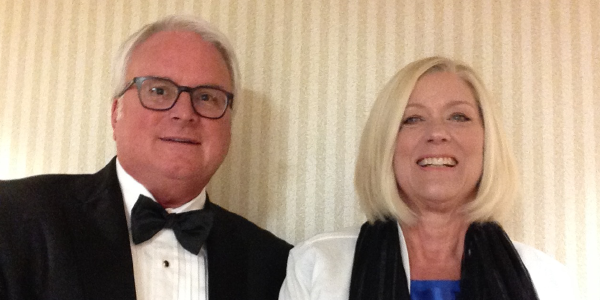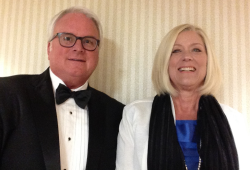 During their 47 years of marriage, Kathleen and Tom Cullinan and their three children have lived in several places - Lincoln, Omaha, Houston and Columbia, Maryland - but despite the distance, their ties to Holy Name School are as close as ever. Although they now live in Corpus Christi, Texas, Holy Name and the Archdiocese of Omaha remain front and center in their hearts.
A History That Binds
A 1970 graduate, Kathleen started at Holy Name School in kindergarten. When she received a scholarship to the high school (since closed), she vowed that someday she would repay the gift. "Over the years, we made donations to Holy Name when they called for their annual appeal. It would always be a student calling so I would give," said Kathleen.
Kathleen said Tom's expanding work in philanthropy became a turning point to make their giving more intentional. With more than 30 years' experience, his work has focused on estate planning and complex gifts, so his expertise guided their decisions. "Every year we would sit down and thoughtfully evaluate where we wanted to give our charitable donations, and Holy Name School was always on that list," she said.
The connection grew when the couple moved back to Omaha from Maryland in 2000. She said the first thing they did was go to one of its famed fish fries. "No one in my family had been to a fish fry. We talked about how much fun it was, and suddenly my siblings started going. Their families started going, and my mom also started going!" Kathleen recalled.
They were friends with development staff from Holy Name, including Cele Tonn and Colleen Peterson. Kathleen served on the development committee for three years and then eventually co-chaired Harvest, the annual school fundraiser. "You just get pulled in more and more, and every time, it was so comfortable," said Kathleen. "It has a lot to do with the people involved from the past and present. It's an emotional connection too."
Sharing Their Gifts
During their time in Omaha, the couple immersed themselves in their careers and volunteering. Kathleen taught fifth and sixth grade at St. Robert Bellarmine for 16 years. They devoted energy by helping at their various parishes throughout the years - St. Robert's, St. Charles Borromeo and Holy Name - as well as the archdiocese. They were founding members of the Heritage Society (now the Living Legacy Circle) and were members of the Archbishop's Committee for Development. Tom's expertise in charitable giving was invaluable, and he served as a member of the Legacy Planning Committee. In addition, he conducted a study of the archdiocese's stewardship and development initiatives where he recommended areas for improvement that are still in place today. He also delivered stewardship seminars for its development professionals, managed St. Robert's stewardship program, and was a pro bono advisor to the Servants of Mary.
Tom continued building his consulting business, serving as editor of Planned Giving Today and he was the second director of the National Planned Giving Institute at The College of William and Mary. Today, Tom is Senior Vice President for Thompson and Associates located in Brentwood, Tennessee.
Thoughtful Planning
As the years went by, it became clear to them that their "first love" as Tom called it, was and would continue to be Holy Name. In 2007, the couple revised their estate plans and named several nonprofits as beneficiaries for an end-of-life gift. Holy Name School was prominent on that list. The couple entered into a charitable gift agreement with the archdiocese which they updated in December 2020. Their revocable living trust provides a gift to the Archdiocese of Omaha for Holy Name School to support elementary student tuition.
"Going through our estate plan, we realized that we're not affluent, but we have assets that are well suited for an end-of-life gift. If we can't give it earlier, at least we can give it at the end," said Tom. "Essentially, we're tithing from our estate. The late Msgr. Peter Dunne often reminded me that, 'Everything is a gift.' He would quote Corinthians: 'What am I that I have not received, and why do I glory in it as if I had not received it?'"
The choice to include Holy Name School in their estate plan is because of Kathleen's connection to the school and parish, first and foremost. "We'd rather give to one place and have more power than spread it 10 or 20 different places," she said. "We still give to other nonprofits and always will, but if it's a significant amount, we want it to have real impact. We can't think of a better place for our gift than for the students and families of Holy Name School."
With Kathleen's inspiration and encouragement, several of her family members increased their giving and created scholarships as well. Today there are three Wingender family scholarships at Holy Name School, including one named for their parents, Ellie and John. Holy Name Parish is where Ellie became Catholic nearly 60 years ago. She made a point to attend the scholarship presentation each year and delighted in having her photo taken with that year's recipient of her scholarship. Kathleen said her mother volunteered to stuff envelopes at the parish even at age 94. Before her death, Ellie was inducted into the Holy Name Hall of Fame.
Although the Cullinan's physical address is now in Texas, their hearts will always be connected to Omaha and their beloved Holy Name. "Omaha has a great tradition of supporting Catholic education" said Kathleen. "We want to be a part of that."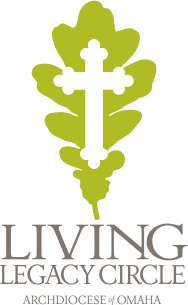 Living Legacy Circle
as a special way to recognize those who have made a provision in their estate plans for the Archdiocese of Omaha or a parish or school within the archdiocese.
Join Us
Many people are called to include the Catholic Church in their estate plans as a lasting testament to their faith. The Archdiocese of Omaha created the
Let us help
with
your
gift plans
Please contact us if you would like additional information or let us know if you have given to us in the past.