Values are Foundation of Legacy Plan for Omaha Couple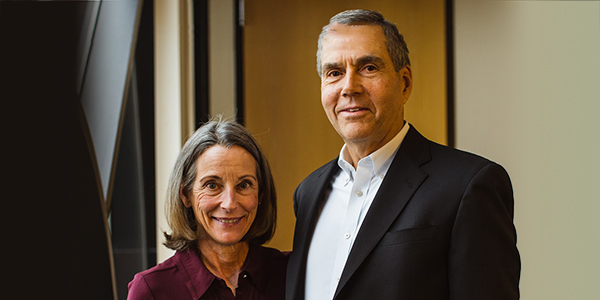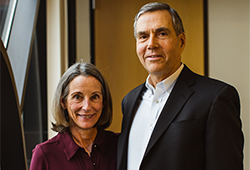 When it came time to make an estate plan, Tricia and Mark Weber of Omaha reflected on what they valued most in their lives. Those values became the foundation of their plan for their legacy.
"Legacy to me is like leaving footprints on the beach. You want someone to know you've been here, that you passed this way during your lifetime," Mark said. "Legacy to us is two-fold.
Our first legacy is to leave good citizens. So we hope we have done a good job of passing our values on to our children. Our second legacy is to our community."
Tricia and Mark are members of St. Wenceslaus Church and have been active in a variety of organizations in Omaha that have made an impact on their lives and that of their children, in particular, through their Catholic education. That's why it was important for them to include the Archdiocese of Omaha in their estate plan.
"We raised five children together. They all attended Catholic schools. We are very proud of the adults they have become. They are spiritual, they work hard and they contribute to society.
We attribute much of that success to Catholic schools," said Tricia.
As a professional financial planner and attorney, Mark said he often sees what happens to families when there isn't a clear plan in place. "We see many families over the years destroy themselves because (the children) receive large sums of money from their parents with little direction.
I believe that most kids want to do what their parents want them to do if they have direction," he said. "Without a plan, for those kids, it's almost as if they won the lottery, and they feel they can do whatever they want."
Tricia and Mark regularly update their estate plan and communicate to all of their children so they know what to expect.
Mark said that clarifying your priorities is a good start to planning your legacy. "If I were to talk to someone about why I think it's important for them to give back, first I'd ask who is important during their lifetime? We all had someone helping us along the way — whether it was a parent, a teacher, a mentor — every step of the way, someone has helped all of us. I would encourage people to think back on those who have been instrumental in their own success and how they might give back when they die to say, 'thank you.' I think it's an obligation for all of us."
Learn more about how you can become a member of the Living Legacy Circle like Tricia and Mark Weber and how your legacy can make a difference right here in the Archdiocese of Omaha by contacting:
Tony LaMar
Legacy Planning Officer
Archdiocese of Omaha
Stewardship & Development Office
402-557-5650
[email protected]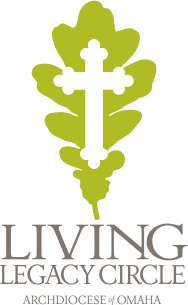 Living Legacy Circle
as a special way to recognize those who have made a provision in their estate plans for the Archdiocese of Omaha or a parish or school within the archdiocese.
Join Us
Many people are called to include the Catholic Church in their estate plans as a lasting testament to their faith. The Archdiocese of Omaha created the
Let us help
with
your
gift plans
Please contact us if you would like additional information or let us know if you have given to us in the past.