Wednesday September 28, 2022
Case of the Week
Barbara Banker's Youth Center
Case:
Barbara Banker started with nothing. She lived in a midsized town and worked in the local hardware store. The store owner noticed her industrious efforts and strong work ethic. When he decided to retire, he suggested that Barbara take over the hardware store and pay him from store profits over a term of 10 years. Barbara did exactly that. When the town drugstore owner wanted to retire, Barbara bought the store under a similar plan. Later, Barbara started buying apartment buildings in town. Since she needed financing for these purchases, Barbara became good friends with the town bankers.

Two bankers eventually approached Barbara about starting a new local bank. She agreed to be one of the initial directors and all three invested in the bank, which they named LoBank. Over the years, the bank's services and value greatly increased. Barbara is a respected executive and owns a large block of LoBank stock.

As a strong supporter of her local community, Barbara gives regularly to her favorite local charity. She would like to make a large gift of bank stock to the local charity to be used to build a new youth center. But as a director, she knows that LoBank is discussing a sale of all stock to MegaBank, a bank located in a nearby large city. Barbara meets with her counsel to discuss the gift.


Question:
Barbara explains, "My favorite charity has a naming opportunity for the new youth center and has asked me if I would consider making the lead gift. I am interested in supporting our local youth and this center would be a fine addition for our town. The LoBank stock has significantly increased in value, but I have heard that there may be problems with gifts when bank negotiations are underway. Can I make this gift? Are there any potential problems?"


Solution:
Barbara's counsel explains that it is possible to make a gift of LoBank stock at this time. Negotiations for sale of a bank can be protracted. The acquisition of local banks and other companies may be subject to specific federal regulatory rules. Therefore, the negotiation period may be quite lengthy in order to comply with external requirements.

Since there is no binding agreement under Rev. Rul. 78-197 during the negotiation period, outright charitable gifts or transfers to a charitable trust are usually permissible and will bypass capital gain. In some cases, the directors may have restricted stock. With restricted stock, the charity may need to wait the applicable period of time before actually selling the stock. However, Barbara's stock is subject to no such restriction, therefore, it may be transferred and sold.

Since LoBank is not publicly traded and the stock gift has an approximate value of $100,000, substantiating the charitable deduction will require an appraisal by a qualified independent appraiser. In addition, the few stock sales that occur each year are usually to other current LoBank shareholders. Because Barbara does not have a binding agreement to sell prior to making a charitable gift, she may make the gift, bypass the capital gain and deduct the appraised value. Her charitable deduction limit will be 30% of her adjusted gross income because this is an appreciated asset gift. If she cannot use her full $100,000 deduction amount under the 30% deduction limit for this year, Barbara can carry forward the remaining gift value for up to five additional years.

Published September 23, 2022
Previous Articles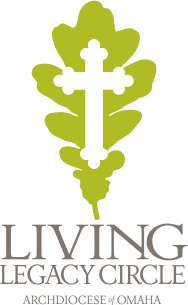 Living Legacy Circle
as a special way to recognize those who have made a provision in their estate plans for the Archdiocese of Omaha or a parish or school within the archdiocese.
Join Us
Many people are called to include the Catholic Church in their estate plans as a lasting testament to their faith. The Archdiocese of Omaha created the
Let us help
with
your
gift plans
Please contact us if you would like additional information or let us know if you have given to us in the past.