Account Login

Getting Started

If you would like to create a plan to have your affairs in order or need to make updates to an existing plan, the Wills Planner can help you get started. Watch the videos below to learn how to use the Wills Planner to create the peace of mind that comes with having a plan for both you and your loved ones. When you are ready to get started click on Login to Plan Your Will and create your personal settings.
Learn More About Planning Your Will Online
Getting Started

A good estate plan will provide for and protect your family. The Wills Planner will help you conveniently and quickly gather the information you need to complete your plan. Follow these steps to get started.
Watch video

You and Your Family

Learn how to set your Wills Planner preferences. In this section, you can also begin entering data about you and your family members as well as some of your planning goals.
Watch video

Your Contacts and Healthcare

Learn how to use the Wills Planner to select the individuals you want to manage your estate and who can manage your legal and healthcare decisions if you are unable to make these decisions yourself.
Watch video

Your Finances

Learn how to compile a complete list of your assets so your attorney can complete your plan and make provisions how these assets will be distributed to your loved ones.
Watch video

Your Estate Plan

Learn how to select the right estate plan. The plan you choose will depend on several factors including the people and charities that you wish to include in your estate plan.
Watch video

Provide & Protect

Learn how to use the Wills Planner resources to find answers to some of the more common estate planning questions and concerns that people have. Provide and Protect is a great resource that can help you find the answers you need.
Watch video

Connecting with a Legacy Planning Officer

Learn how to ask your parish, school or the archdiocese questions about estate planning and charitable giving. You do not have to share any information with us, but we are here to help you with the decision-making process.
Watch video

Connecting with a Gift Attorney

Learn how to take your Wills Planner information to a qualified estate planning attorney and other advisors who can then help you complete your estate plan.
Watch video

Making a PDF

After completing your Wills Planner, you will want to create a file of the information you wish to share with your estate planning attorney. Build and save your Wills Planner PDF with these simple steps.
Watch video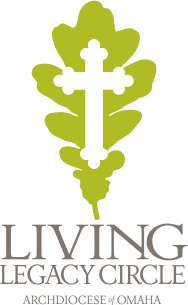 Living Legacy Circle
as a special way to recognize those who have made a provision in their estate plans for the Archdiocese of Omaha or a parish or school within the archdiocese.
Join Us
Many people are called to include the Catholic Church in their estate plans as a lasting testament to their faith. The Archdiocese of Omaha created the
Let us help
with
your
gift plans
Please contact us if you would like additional information or let us know if you have given to us in the past.